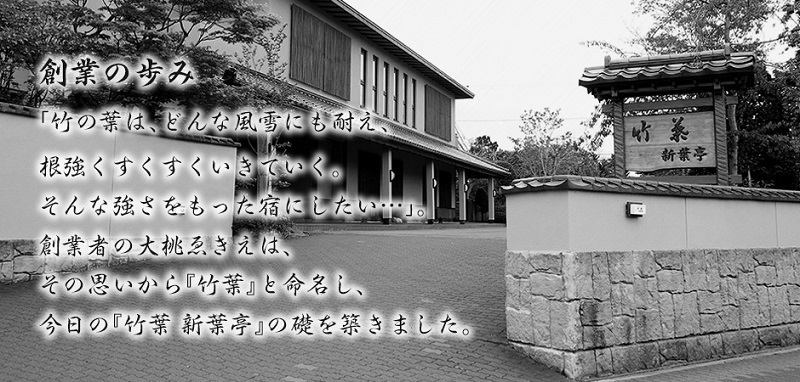 chapter One<Creation period>Everything comes from the thought of my mother
Showa 21 (1946), avoiding the central part of Hakodate which was devastated by the war, Wekie Omomo transferred to the land of Yukawa where one side was a field at that time, moved home with her husband and old mother, While living a geisha who started from the age of years, he lived desperately in a post-war chaos period.
At the time, the long-established inn Takasago of Yukawa that was next, old mother from the thread of thought that was put in a hot spring, and three years, also be attended every day the day of the snow on a rainy day, give me head down, barely Gojikkoku them share the Gojikkoku hot springs.
As a result, in 1954, the Onsen Gojikkoku spring inn "Chikuba" was operated in five guest rooms and 50 Onsen Gojikkoku.

Even if you start the inn, there is no knowledge or experience of the management of the ryokan at all, and at that time you could not do anything like asking teachings from other inns.
So I asked the Yunokawa Yunokawa Hot Springs Ryokan Cooperative for a helping hand.
The Yunokawa Yunokawa Hot Springs Ryokan Cooperative, who was delighted by the personality of Aoi, was willing to listen to the request of Aoi and tell me about Iroha.

Opened at the same time, one Hakodate, cook with the arm of about vying for two, welcome Jujiro Kimura Hakodate Kappo Licensed Cooks Association chairman of the later) to cook, is built the foundation base of the hot spring inn Chikuba. By welcoming Jujiro Kimura as a chief chef, it became popular that Chikuba cuisine was delicious, and the number of guests gradually increased.
Chapter II<Busy season>With daily efforts and research mind

As a result of the opening of "Chikuba", Beppe, who was aiming at "a pure Japanese style inn," visited a well-established inn in Kyoto every year as it did.In this era when there are not planes, etc., it took huge cost and time to go from Hakodate to Kyoto.
But even with that expense and effort, there were reasons why eager to go to Kyoto.
That is because the spirit of the accommodation that "Chikuba" should aim for, the service and so on were all in the accommodation in Kyoto.Eeey himself paid the highest fee himself, received the best service, experienced "hospitality" of the old-fashioned inn in Kyoto, and kept making use of it as management of the ryokan as his own fertilizer.
Weekly knowledge and experience gained in Kyoto was immediately returned as a service to our customers.

In addition, when traveling to Kyoto, I surely stopped by a travel agency in Tokyo, he became an advertising tower of "Chikuba" and kept on steady marketing activities.
Thanks to that, group travelers from Honshu will continue to gradually increase, and the management of the ryokan will also stabilize.
Chapter 3<present day>And, Wekie became the treasures of Chikuba
In the summer of Showa 62 when Eiya was on the floor of the disease, on that day, a feast of good-bye who had been indebted to since the opening of "Chikuba" was held.
In spite of the fact that meals are not satisfactory through the throat, in spite of being able to never go to a school for ordinary reasons, Eiya realized that he was dead, "I will only go out to this room" I pushed my head and headed for Osaki.

The weak, who disliked being aware of being a disease, drank the back muscles and drink a cup of beer, unless it seems to be a sick person.
And when I finished my last greeting, I left the seat without changing.

In the autumn of this year, we bid farewell to living as a Okami at "Chikuba" which extends over 38 years, and Eiya quietly left the world.
And now, Chikuba Shinyotei, which has been succeeded by the second generation of Teru Nishino, is the people who will continue to meet the new era while still maintaining the original "Japanese style inn" built by Ekie. It will give you a soothing smile.With the "heart of hospitality" that Eiya built and practiced ... ....